NEW YORK CITY VIDEO STUDIO
PROFESSIONAL VIDEO AND LIVE-STREAMING
Same day electronic delivery

Super-friendly team

Professional sound

Amazing lighting

Recorded videos are instantly available for editing
Record Video
at our studio
Ideal for interviews
corporate presentations
courses
testimonials

HD or 4K

Studio Lighting

Professional Sound

Gray, White, Black Backgrounds

Teleprompter Available

Comfortable Atmosphere

Same Day Delivery

Fantastic Support Team

BOOK NOW
Record Video
at your office
Ideal for interviews
corporate presentations
courses
testimonials

HD or 4K

Studio Lighting

Professional Sound

Gray, White, Black Backgrounds

Teleprompter Available

Comfortable Atmosphere

Same Day Delivery

Fantastic Support Team

BOOK NOW
Live Stream
from our studio

Ideal for interviews
corporate presentations
courses

720p or HD

Studio Lighting

Professional Sound

Gray, White, Black Backgrounds

Teleprompter Available

Comfortable Atmosphere

High-speed Internet

Fantastic Support Team

BOOK NOW

 We accept all major credit cards, Apple Pay and Android Pay.
100% satisfaction guarantee.
CORPORATE CLIENTS
You can pay by check, ACH or credit card following our invoice. To book or for any questions please call us 212-390-0410.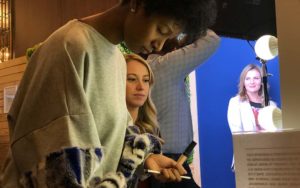 Professional Groomer
$200-/hr or $500-/day
Includes makeup and light hair styling
Please book in advance – groomer comes specifically for your video session
Done at the same location 1 hour prior to the start of the session
Interviews

The footage of people answering questions, or speaking into a camera is the foundation of any corporate video or a video presentation. Beautifully shot interviews with or without background music could serve as a perfect tool of presenting your company, team, idea, product or a cause. People are more likely to watch a video than read text online. We use professional sound recording, studio lights and HD or 4K camera equipment. We deliver footage the same day and editing can be done on the spot.
Online Courses
Education is increasingly expanding into internet. We have filmed a number of courses for various educators and thinkers and have a set of unique tools to help make the process fast and enjoyable. We use innovating recording techniques that allows to have a video channel of slides synchronized with the video of the speaker. It saves a lot of time and money in the editing. We use a teleprompter that can project text of presentation slides.
Live Streaming
Broadcasting level of live streaming using our professional equipment is drastically different from using webcams and tablets. When quality of image and sound matters – don't compromise. Our 1Gbps corporate FioS internet connection supports professional high-quality streaming with no noticeable delay. We have done presentations of celebrity speakers streaming form our New York studio to a large concert hall in London. Teleprompter is available should you need it.