1. MAKE AN APPOINTMENT
Using our 24/7 online booking, you can schedule your individual or group headshots session at one of our studios, or at your office. Please arrive on time. You'll get optional notifications with the address, tips on how to prepare, and your appointment time.
2. ENJOY THE PHOTO SESSION
First, we discuss the goals for your new photographs. Then we choose the best clothes and check the fit. You may want to brush your hair. Women would check their make up.
For gentlemen – you need to look rested, clear skinned and neatly dressed. Ladies may choose to have a more elaborate hair and makeup as we try to bring out the best possible look.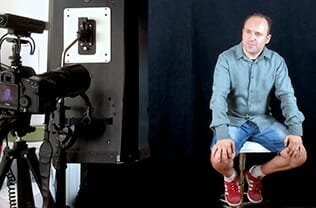 Taking headshots is a dialogue. We will play, experiment, and try various set ups. We take pictures at the studio with gray, white and black backgrounds – all perfect for business.
We work on capturing your essence and then go even farther to take the best headshots of your life. We don't stop until we get the best.
3. CHOOSE THE BEST PHOTOS
Together we help you to narrow down and select the most effective images. If you choose to retouch, you can order any time after the shoot. All the details will be in the email we send you. We also offer optional formatting for print, web and LinkedIn. You receive all the images we took within an hour. You own all of your images. The copyright is yours.
HOW TO PREPARE
Come Well Rested
In your headshot, we want you to look fresh and full of energy. It's not a good idea to go out the night before your session. Instead, get some rest. If you happen to get sick and the deadline is not pressing, it's better to reschedule. We want you to shine and look your best.
Hair and Skin
Please do your best at preparing yourself to look sharp. Make sure your face is washed and hydrated with an organic cream. A fresh haircut or a blowout would do wonders. We work with professional groomers. Please contact us if you would like to request one for an additional $200-.
What to Wear
Appearance is key in a photo shoot. Consider your photo session an opportunity to upgrade your look. Treat yourself to a new shirt, jacket, designer glasses. When you're preparing for your session, ask yourself about the general attire of people in your line of work. What kind of image do you want to portray? If you're looking for a professional LinkedIn photo, you're going to want to wear a suit, even if your current job title doesn't demand you wear one. When you're looking to climb the corporate ladder or switch careers, the more professional the look, the better.
If you're looking for a professional bio picture for a business website, Twitter or a Facebook photo you'll want to dress more professionally, while appearing slightly more casual. A jacket or blazer can still work wonders, but consider whom you need to address first.
Ladies
Dark jackets photograph well, but a solid color blouse or a sweater could work just as well. Make sure to bring your make-up and a hairbrush for touchups. Getting a haircut or blowing your hair in a salon before your session will make a big difference. Try to stay away from sleeveless or short sleeve shirts.
Gentlemen
We recommend dark blue or black suits. A matching tie would look great even if you normally don't wear it. Solid colors are better for pictures. Make sure all clothes are clean and ironed. A clean shave or a beard trim is essential. Try to do it right before your session or feel free to do it at our studio. Please bring your hairbrush for touchups.
Bring the clothes you love to wear, something that makes you feel great. Feel free to bring a few things to choose from. New clothes look nice and fresh. It may be a good idea to get something new that works best with the style you choose.
Bright, solid colors work best. You want your image to pop out of hundreds of other shots. Make sure all the clothes are clean and ironed.
Ladies
Bring your make-up and hairbrush for touchups.
Gentlemen
Clean shave or a beard trim is important. Try to do it right before your session or feel free to do it at our studio. Bring your hairbrush.
Please feel free contact us if you have further questions.